May 09, 2010 / Postcards /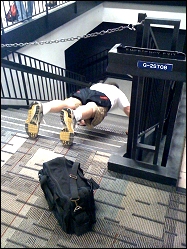 Dear Readers,

Ah, the things people do in airports. This man went where he shouldn't have during a layover, and I just happened to have my camera on and pointing in his direction!

Now that my island hopping is over for the time being, I am back in the States for some work on home soil. This week I played in Pittsburgh, with the Pittsburgh Symphony Orchestra and conductor Manfred Honeck. I realized when I arrived that a lot of my former classmates are in the orchestra! It has been a number of years since I was last here, but I used to play with this orchestra a lot. The first time was when I was 14, with Lorin Maazel, whom I had been introduced to by the concertmaster Andres Cardenes not too long before. That was more than half of my life ago! As a result of that long connection with this orchestra, and with their concert hall, I feel very comfortable with how they play – their style and approach – and with Heinz Hall (named like the food company; the Heinz family was supportive of the arts). This week was an old home week of sorts, and I got to catch up with nearly everyone I've known for so long. Now, I'm off to Dallas. Warmth, here comes summer!
Hilary